BenCham | Call for Talents
Benelux Chamber of Commerce in China
Beijing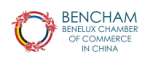 The Benelux Chamber of Commerce, Chapter Beijing:
The Benelux Chamber of Commerce's main objective is to facilitate information sharing between its members, the Benelux Embassies and other interest groups. We oversee a powerful network of Benelux companies and professionals, helping them exchange views and experiences on doing business in China. We obtain this goal through connecting people by organising a wide range of activities and providing services catered to everybody's needs. Through an open and personal relationship with our members, we are able to more easily anticipate our members' wants and needs.
BenCham has been growing at a steady pace since it was established in 2001 and currently has over 400 members. It contains 3 chapters: one in Beijing, one in Shanghai and one in Guangzhou (Pearl River Delta).
As an independent, non-profit organisation, BenCham is managed by a full-time secretariat of both Benelux and Chinese staff and is guided by an active Board of Directors. BenCham sustains itself through government subsidies, membership subscriptions, sponsorships and event fees.
---
BenCham is now launching calls for young talents who are interested in doing an internship at BenCham with a broad variety of responsibilities of the following positions.
Please send your resume and motivation letter to beijing@bencham.org.