Are you a representative of a large multinational expanding your business connections in China? Are you a company searching for reliable local partners, distributors, or customer? Or are you an entrepreneur interested in the Chinese market entry? At the Benelux Chamber of Commerce we use our vast network to provide tailored solutions to businesses of any size. The sectors we are connected to through our partners and members include:
Ø  Aviation
Ø  Chemicals Production
Ø  Consulting & HR
Ø  Education & E-learning
Ø  Electronics Manufacturing
Ø  Energy & Mining
Ø  Equipment Manufacturing and Construction
Ø  Fashion & Design
Ø  Finance, Insurance & Investment
Ø  Food & Beverages
Ø  Government Bodies and Chambers of Commerce
Ø  Hotels & Tourism
Ø  IT, Translation & Interpretation Services
Ø  Logistics
Ø  Marketing & Advertisement
Ø  Pharmaceuticals & Healthcare Equipment
Ø  R&D
Ø  Tax & Legal Advisories
Matchmaking Process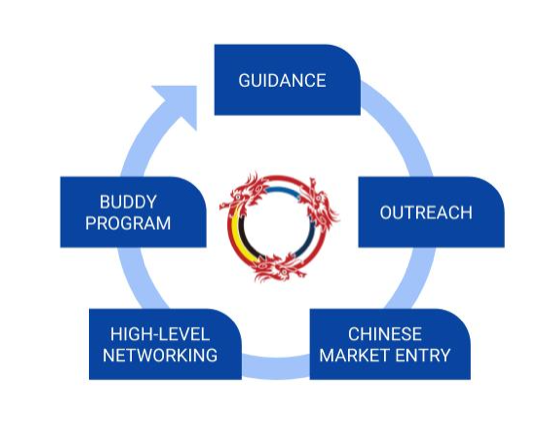 1.     Guidance
-      Organizing Benelux company visits, personal introductions to C-level executives and Benelux Multinationals, coordinating and facilitating all business appointments
-      Providing information and contacts of potentials partners and clients
2.     Outreach
-      Helping you gain exposure though hosting a co-organized event series and providing regular speech opportunities at events
-      Finding tailored advertisement opportunities
3.     Chinese Market Entry Program
-      Practical advice on Chinese market entry: BenCham team will conduct personalized research and give tips on market strategy, HR, legal issues and much more
-      Guiding you through the process, translating Chinese-Dutch-English
4.     High-level Networking
-      Assisting in attracting Benelux companies and projects and building personal connections relevant organization's and authorities
-      Personal introduction to the Benelux Union 
5.     BenCham Business-Buddy Program
-      Connecting directly to the industries in your sector already operating in China
-      Sharing know-how and practical tips relevant to your type of organization, your sector and your geographical area
-      Providing you with in-depth case studies
---
Price is personalized and discussed upon request. If you have any questions, please contact our Business Development Department at: pa2-bj@bencham.org.
---